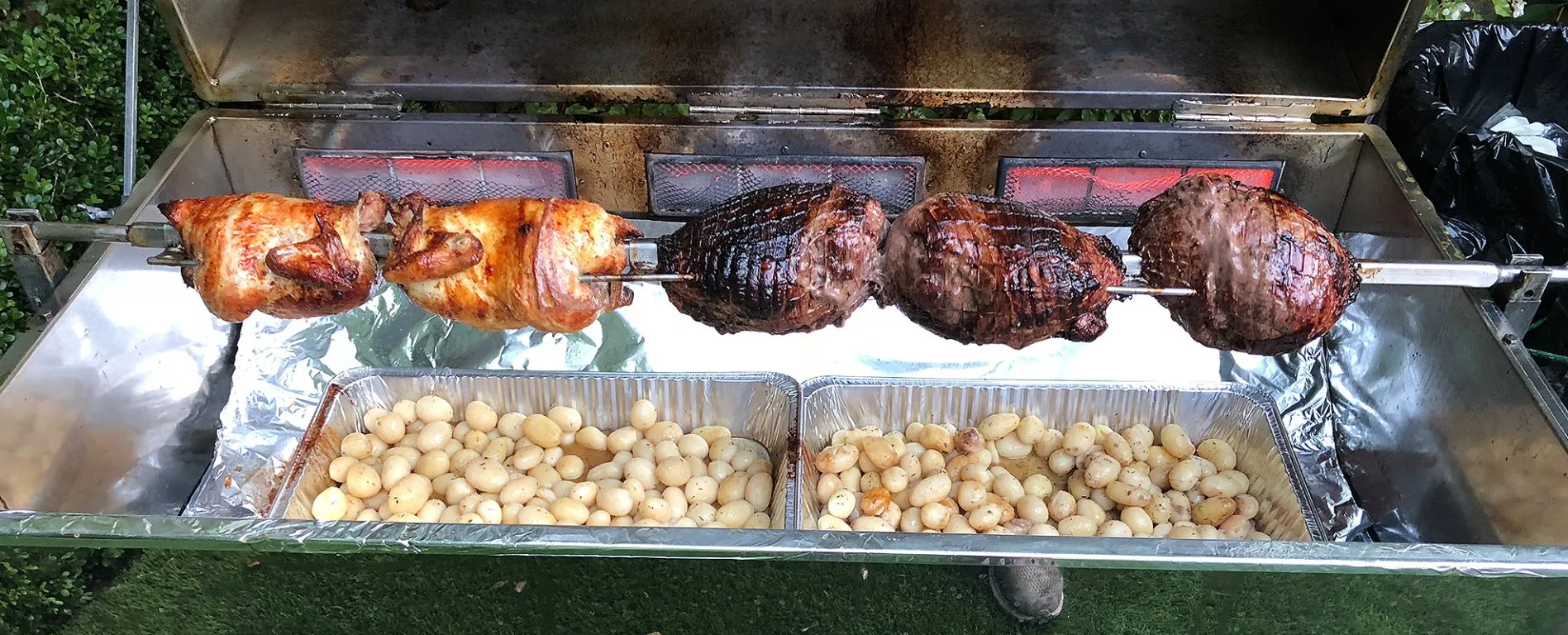 Shaka's BBQ Client Reviews
Over 20 Years' Experience | Family Owned
I'm South African and I can tell you right now this is by far the best biltong in USA. I totally recommend this company and standby this product 100%"
Delano M.
Here's what our satisfied clients are saying...
By far the BEST Biltong I've had in the US. 100% will be buying more!!!
Tamsyn R - 11/11/2022
Just had Mark at Shaka cater for my birthday and everything from the food to the service was exceptional. Everything made right there so all fresh dishes. His shrimp skewers and lamb chops are the best. I would recommend them with no reservations
Al L - 3/18/2022
This is the best biltong in the USA!
Max A - 3/2/2022
The Biltong from Shaha's is the best biltong I ever bought in the US. And I have tried many here… And I have been in South Africa many times. Just amazingly good!!!!
Jakob W - 2/27/2022
This jerky is amazing. As a professional jerky taster I definitely have to rank this #1 on the list. I bet you can't just eat one!
Justin - 11/1/2021
Unbelievable quality. These guys know how to do it right. The boerewors is perfectly seasoned, as is the biltong and dried-wors. If you have a larger group and want something that your guests will be blown away, check out the spit options. Outstanding stuff and man, what a great crew. Mark and his team are in a league of their own. Keep up the great work mate, we need to good quality, authentic options.
Wayne Redondo B - 6/29/2021
World Class!!!! I've been supporting Mark for a number of years now. There are other imitators out there, but there's only one King, King Shaka. The tough part is choosing what to buy as it's all so darn good. Across the road / across the country, there's only one choice.
Jeppo - 6/29/2021
LEKKERRRRRR!!!!!!! SJOE!!!! I just received my order (I ordered it less than 24hrs ago) as I was walking back from a day at the pool.... I believe the owner was nice enough to come deliver it to me, that was DEFINITELY a South-African accent 🇿🇦🤣 I ordered a slab of biltong, droëwors and some chilli bites. I just sampled all 3 items and they ALL TAKE THE PRIZE OF 1ST PLACE IN EACH SECTION!!!! PEEEEERFECT seasonings and AMOUNT of seasonings... tenderness, EVERYTHING. YOU GUYS have my business from here on out, WELL DONE and THANK you!!!!! 🥳🇿🇦🥳🇿🇦🥳🇿🇦
Michele B - 6/15/2021
Simply the BEST EVER ! even better than the biltong and droewors back in RSA! Exceptional quality!
gary le r - 5/25/2021
marks biltong and droe wors is very good , ive had it from all over but his stuff is out of this world
johan s - 5/5/2021
Best Biltong ever!! SO happy I found Shaka!!! More please.......!!! x
Amanda B - 5/2/2021
Best Biltong and droewors in USA 100%
Maria O - 3/24/2021
I'm so happy I was introduced to this by a mommy friend. It's yummy and tasty!
Tricia R - 3/14/2021
I'm South African and I can tell you right now this is by far the best biltong in USA. I totally recommend this company and standby this product 100%%%%%
Delano m - 3/4/2021
Everything is amazingly fresh and if you love lamb you will not be disappointed!!!
Marissa C - 11/28/2020
the best biltong and boreworse in the OC hands down.
Dean C - 11/14/2020
Exceptional service and amazing products
Gary Le R - 7/3/2020
The time he spends prepping the food comes through when you taste it. Delicious!! Friendly and courteous, too!
Augy - 6/26/2020
AMAZING FOOD! Great response time and Mark is excellent to work with! Definitely recommend!
Lily - 6/26/2020